Ye Vagabonds
Ireland, between traditions and rewards
Ye Vagabonds
Ireland, between traditions and rewards
Ye Vagabonds
Ireland, between traditions and rewards
Discography
Biography
Ye Vagabonds is composed of two brothers: Brian and Diarmuid Mac Gloinn.
Irish, they share their vision of the traditional music of their country. Very attached to Donegal, the region where their mother comes from, their 3rd album " The Hare's Lament ", is inspired by the traditional recordings of their grandfather, who disappeared before their birth. A family story in short.
The folk duo Ye Vagabonds is back in 2019 with a new album to be released by River Lea, the new folk division of the prestigious London-based label Rough Trade Records, which also publishes albums by prestigious bands such as Arcade Fire, The Smiths, The Libertines or even The Strokes.
The two brothers Brían and Diarmuid Mac Gloinn have just unveiled a first extract of "The Hare's Lament": a cover of the traditional tune The Foggy Dew, popularized by The Chieftains, The Clancy Brothers, Sinéad O'Connor or Gilles Servat.
Recently, they were awarded for this cover at the BBC Folk Awards, organized by BBC Radio 2 in October 2019.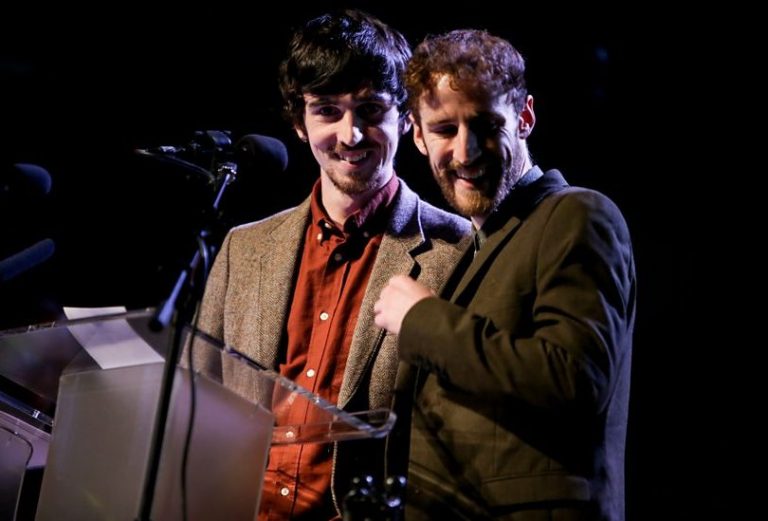 Lineup
Brían Mac Gloinn : vocal, fiddle, guitar, mandoline
Diarmuid Mac Gloinn : vocal, guitar, banjo, mandoline, ukulélé
Alain MacPhaidín : harmonium
Stage references
Londres (UK) – Edimbourg (UK) – Glasgow (UK) – Bristol (UK) – Cork (UK) – Reading (UK) – Zurich (Suisse) – Prague (Rep. Tchèque) – Luzerne (Suisse) – Herselt (Belgique) – New York (USA) – Washington (USA) – Chicago (USA) – Boston (USA) – La Péniche Spectacle, Rennes(35) – Espace Roudour, St Martin des Champs (29) – Festival Tatihou (50)