Carlos Núñez
The only global bagpipe star
Carlos Núñez
The only global bagpipe star
Carlos Núñez
La seule star planétaire de la cornemuse
Discography
Biography
All over the world, Carlos Núñez is considered an extraordinary musician, one of the most serious and brilliant…
His charisma, energy and pioneering spirit have made him very popular, as he constantly pushes the limits of his instruments: the Galician bagpipe -the gaita- and the flutes.
At the age of eight, Carlos chose to learn the secrets of traditional music and the gaita from the old masters. At the age of twelve, he was invited to play as a soloist with the Lorient Symphony Orchestra, a composition by the Irishman Shaun Davey. His brilliant recorder studies at the Conservatory of Madrid earned him the "cum laude" mention and the Exceptional End of Studies Prize.
His first recording was in 1989 with the Chieftains for the soundtrack of the film Treasure Island, with Charlton Heston and Oliver Reed. Carlos Núñez became the seventh Chieftain; with them he won a Grammy Award and played at Carnegie Hall in New York and at the Royal Albert Hall in London with artists like Bob Dylan, Joni Mitchell, Sinead O'Connor, The Who, Lou Reed, Spin Doctors, EddieVedder (Pearl Jam), Bon Jovi, Alice Cooper, INXS…
By the time his first solo album, A Irmandade das Estrelas, was released in 1996, Carlos was already an internationally recognized artist. Platinum record, this album represents the maturity of world music in Spain. More than 50 musicians participated, including The Chieftains, Ry Cooder, Luz Casal and Dulce Pontes.
Carlos' second album, Os Amores Libres, released in 1999, sold more than 250,000 copies in Spain, a record for a traditional music of international scope. Recorded in ten different countries during two years of preparation, it explores the connections between Celtic music and flamenco, with the participation of artists such as Jackson Browne, Noa, Mike Scott (The Waterboys), Teresa Salgueiro (Madredeus), Carmen Linares, Vicente Amigo, Cañizares, Carles Benavent, Sharon Shanon, Dan Ar Braz, Andalusian musicians from Morocco, and the Taraf de Caransebes (Romania)…
In the press
« The only global bagpipe star »
François-Xavier Gómez, Libération
« A soundman who plays like Coltrane or Hendrix »
Bob Flynn, The Guardian
« His charisma, energy and pioneering spirit have made him one of the best musicians in the Celtic world, constantly pushing the limits of his instrument, the Galician bagpipe or gaïta. »
Orchestre Symphonique de Bretagne
« The new king of Celtic »
Manuel Rivas, El País
« The Jimi Hendrix of gaita »
Scott Lewellyn, Billboard
« The golden bell ringer »
Xabier Rekalde, El Mundo
« An artist of remarkable musicality and intelligent talent »
Jan Fairley, Folk Roots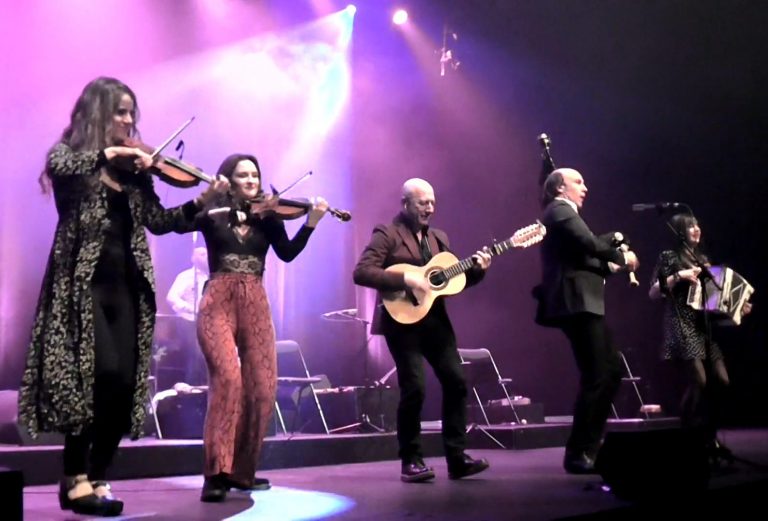 Lineup
Projet BEETHOVEN
CARLOS NUÑEZ : GAÏTA, PASTORAL PIPE FLUTES
XURXO NUÑEZ : PERCUSSIONS
PANCHO ALVAREZ : GUITARES & HARPE
ONE OR TWO FIDDLERS
A PIANIST
Stage references
Carnegie Hall, New York – Royal Albert Hall, Londres – Le Liberté, Rennes – Plaisir, Paris – Teatro Calderón, Alcoi – Teatro Marín, Teruel –  Teatro Principal, Palencia –  Teatro Bergidum, Ponferrada –  Auditorio, León –  Teatro Principal, Ourense –  Teatro Casyc, Santander – Baldwin Auditorium, Durham,NC – Attucks Theatre, Virginia,VA – Herbst Theatre, San Francisco,CA – Early Music Seattle, Seattle, WA –   L'évènement Celtique / Le Liberté, RENNES – Espace Chaudeau NANCY (Ludres) – Transbordeur, LYON –   La Coopérative de Mai, CLERMONT-FERRAND – "St Patrick" / Halle Polyvalente, ISTRES – Le Bataclan, Paris – La Cité des Congrès, NANTES – Les Arcs, QUEVEN (Lorient) – L'Escale, ST CYR S/LOIRE (Tours) – Le Quartz, BREST – Espace culturel Capellia, La Chapelle sur Erdre (44) – Beaupreau (44)…