Sharon Shannon
New Album « The Reckoning »
Sharon Shannon
New Album « The Reckoning »
Sharon Shannon
New Album « The Reckoning »
Discography
Biography
Sharon Shannon is one of Ireland's most renowned musicians for her virtuosity on the diatonic accordion, but also for her talents as an arranger and composer. She has already released numerous albums under her own name, revealing the talent and eloquent creativity of this artist. Unmissable!
She learned to play the accordion at the age of 11. Her sister Mary plays the banjo and the bouzouki. Co-founder of the group Arcady, she quickly began a solo career, releasing her first album in 1989, with the collaboration of major players in Irish music, such as Donald Lunny, Philip King, Mary Custy, Adam Clayton, Steve Wickham, Mike Scott of the Waterboys.
In 1990 she is part of the Waterboys, with which she releases an album. She gets her first big success in 1991 with the album "Sharon Shannon". But it is by participating in 1992 in the album "Woman's Heart", one of the biggest success of all time in Ireland, that Sharon Shannon will reach the rank of star in Ireland.
She is one of Ireland's most endearing artists, who through her talents as a producer and arranger has achieved unquestionable success and has reached a level of fame that is internationally recognized.
In the press
Warmth and smile, Sharon Shannon receives with warmth and smile. With two guitarists, Jim Murray and Jack Maher, the Irish musician, a major figure of the diatonic accordion (in her album The Reckoning) is the headliner of the Tatihou festival. Before her concert, she offers the public an acoustic preview of her virtuosity on the accordion.
Patrick Labesse - Le Monde
"With The Reckoning, Sharon Shannon continues to defy genres and demonstrate an openness to all the music of the world. [...] On this superb opus, she pushes her limits further than she has ever done. The result is original, captivating, sometimes hair-raising, never boring."
Kata song
"Sharon Shannon caresses the keys of her accordion with as much pleasure as the strings of her violin. Born into a family of musicians from the south of Ireland, she has been leading the Sharon Shannon Band since the late 90s. At her side, her sister Mary on the banjo and bouzouki sublimates the finesse of her playing which fascinates by its speed... "
B.M / Mondomix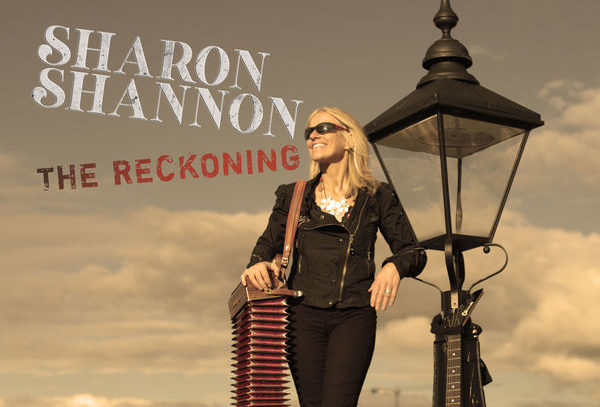 Lineup
Sharon Shannon (accordéon diatonique)
Jim Murray : guitare
Jack Maher : guitare électrique, chant
Stage references
Espace Prévert, Scène du Monde, Savigny le Temple (Paris) – Festival Eurofonik, Nantes (FR) – Maison de la Musique, Nanterre (FR) – Electric Circus, Edinburgh (UK) – Cecil Sharp House, London (UK) – Charlies Bar, Lanzarote (ES) – Liverpool Philharmonic Hall (UK) – The National Concert Hall, Dublin (IE) – Cork Opera House (IE) – Sydney; Manresa Theater (ES) – Decennals de Valls (ES) – Les Saulnières, Le Mans (FR) – Disneyland Paris, Marne la Vallée (FR) – Centre Culturel, Ablon sur Seine (FR) – Le Colisée, Lens (FR) – FIMPT, Vilanova (ES) – Festival de Mawazine, Rabat (MA)