Les Musiciens du Nil
Rural music of Upper Egypt
Les Musiciens du Nil
Rural music of Upper Egypt
Discography
Biography
Originating from the region of Luxor and the surrounding villages, wearing thick dark gallabiya- s, majestically turbaned in white, the Musicians of the Nile have been exporting the rural music of Upper Egypt all over the world for some thirty years now.
Coming from real castes of professional musicians affiliated to gypsy clans such as the Mataqil, Balhawanât, Djamassi, who came to settle in Egypt as early as the 11th century, they animate weddings, all kinds of ceremonies and festivities of a sacred nature, the most important of which is the one that celebrates the birth of the Prophet, the mawlid al-Nabî.
Like the old bards of yesteryear, village musicians and nomads of the traditional festivals, the Musicians of the Nile travel on donkeys or jets across spaces and cultures, virtuosos of the rababa, this fiddle made of horsehair, coconut and Nilotic fish skin, they drown our senses in a flood of trills. The bow glides, strikes and bounces on the horsehair. The Musicians of the Nile, with Metqâl Qenawi Metqâl at the beginning, the great master and genius of "sa'îdî" music (from Upper Egypt) and Shamandi Tewfick, an epic poet from another time, are a symbol, being the first group of so-called "Arab" music to obtain, as early as 1975, a real notoriety, well before the arrival of a real current of Arab-Oriental music and Raï.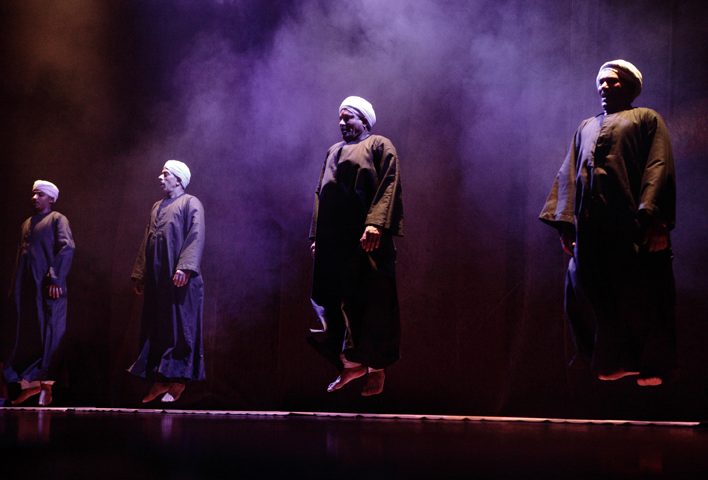 Lineup
Metqâl Quenanoui METQAL : Vocal, Rabab
Chamandi Tewfick METQAL : Vocal, Rabab
Mohammed Mourad METGALI : Rabab
Fawzy HAFIZ : Suffara
Abdel RHANI : Def
Saïd Mohammed ALY : Darabukka
Qenawi Bakhit QENAWI : Mizmar
Ramadan Atta MOHAMMED : Mizmar
Mohammed Ismaïn A. DJELIL : Mizmar
Djad al-Rabb MOHAMMED : Tabla
Stage references
Les Suds – Arles (FR), Womad Charltonpark (IK) Festival Evora Classica (PT), Paleo festival – Nyon (CHE), Rose des vents Scène Nationale – Villeneuve d'Ascq (FR), Foundation of International Theatre Festival Malta – Poznan (PL), etc…