Séamus & Caoimhe Uí Fhlatharta
Sean nos
Séamus & Caoimhe Uí Fhlatharta
Sean nos
Séamus & Caoimhe Uí Fhlatharta
Sean nos
Discography
Biography
Born into a musical family, siblings Séamus & Caoimhe Uí Fhlatharta hail from the village of An Áird Mhóir in the Gaeltacht region of Connemara, County Galway.
They are noted for their sean nós singing (unaccompanied traditional Irish vocal performance in the Irish language) and their unique arrangements of both Irish and English language songs. They take a particular interest in vocal arrangement and harmonization with their performances benefitting from the vocal tones that only families share.
They are both accomplished multi instrumentalists, Irish dancers and All Ireland winning performers who keep the Irish language and their heritage at the heart of all their musical endeavors.
Their Late Late Show performance in 2022 of the soulful lament Anach Cuain captured the mood of the nation and went viral around the world.
Séamus and Caoimhe have just released their first EP. It is produced by Brian Whelan and Riverdance composer Bill Whelan and recorded at their studio at The Fort, Roundstone, Connemara.
In the press
« Magical sibling harmonies »
Ruth Smith, Presenter Simply Folk RTÉ
« Séamus & Caoimhe Ui Fhlatharta, the very talented duo, stole everyone's hears last year with their stunning sean-nós set. »
Other Voices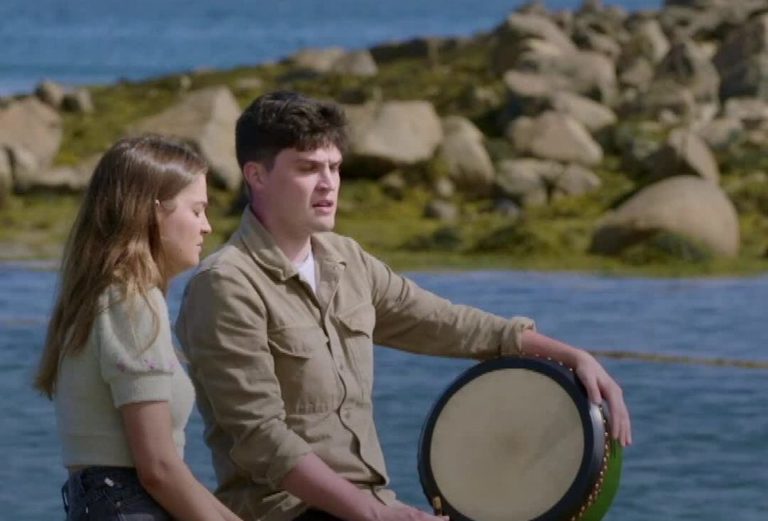 Lineup
Séamus Uí Fhlatharta : vocals, bodhran, harp
Caoimhe Uí Fhlatharta : vocals, fiddle