Socks in the Frying Pan
Current Irish music
Socks in the Frying Pan
Current Irish music
Socks in the Frying Pan
Current Irish music
Socks in the Frying Pan
Current Irish music
Discography
Biography
Socks in the Frying Pan is an award-winning trio from the West Coast of Ireland, the birthplace of traditional Irish music. Their dynamic vocal harmonies and on-stage skills capture and captivate audiences around the world.
The joyful trio mixes traditional Irish melodies with a touch of personal madness that has earned them critical acclaim. They have been awarded "Band of the Year" by the Irish Music Association.
The band has played in the USA where they have been programmed in the biggest Irish music festivals and where they have been noticed for their energy and their modern style, which has convinced many. If they love to play live, it is in the essence of the entertainment and the show they give on stage.
In the press
« The energy of the musicians, their humor and their strong stage presence captivate audiences around the world »
France culture
« Leur son coule en vagues magnétiques et énergiques, tout comme leurs plaisanteries sur scène. »
Irish Music Magazine
« Well you won't hear a better name than this and the music is just as damn good… It's most definitely fresh and marks another potential album of the year in the making. »
Trad Connect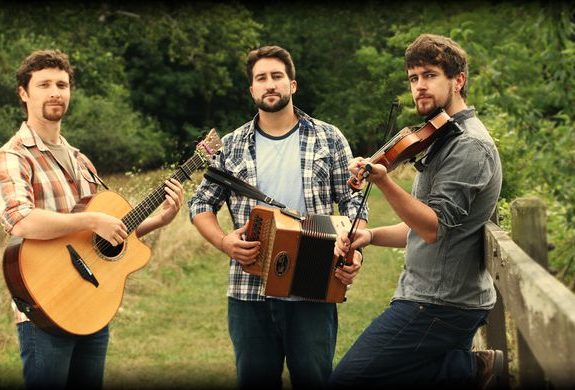 Lineup
Shane Hayes : fiddle
Aodan Coyne : guitar / vocal
Fiachra Hayes : diatonic accordion
Stage references
Centre culturel irlandais (Paris), Festival de Tatihou (La Manche), Gaelic Park Festival (Chicago) ; Colorado Irish Festival (Denver), Festival Colours (Canada), La Bouëxière (France), La Péniche Spectacle ( Rennes), Festival de Corbeyrier (Suisse), Festival de St Cloud (Paris) …