Annie Ebrel & Riccardo Del Fra
A velvet set
Annie Ebrel & Riccardo Del Fra
A velvet set
Discography
Biography
Voulouz Loar – Velluto Di Luna
Coop Breizh- 1998
"The title speaks for itself: two musicians from different origins and backgrounds weave together the same velvet.
Annie Ebrel, a famous singer of the Lower Breton tradition, offers here a selection of gwerzioù (laments in Breton) and dance tunes. […] She invites the Italian-born double bass player and composer Riccardo Del Fra to arrange each of the chosen titles. […]
The harmonic writing, here through the string quartet or the stacking of Annie's voice, moves away from the pop or rock chords, which had marked this same revivalism. The modernity here lies in the harmonic universes that Del Fra details, very close to the music of French composers of the beginning of the 20th century such as Debussy or Ravel, themselves precursors of jazz harmony and who influenced the composers of film music. The music of harpist Kristen Nogues comes to mind, especially on the luminous Voulouz Loar, the only composition on the album written by Del Fra to a text by Pêr Jakez Helias. The play of dissonances and the respect of the modal character of the gwerzioù offer new colours to these ancient laments. They allow us to retranscribe the supernatural universes depicted in this popular poetry, to colour these ancient melodies without flattening them. The rhythmic part of this album is based on a rather groovy foundation, like the sensual and growling bass line of Daeroù ho tivlagad. When he accompanies a gavotte, Del Fra chooses to sing the steps, without further embellishment, as on Dañs Tro Lors after having made us hear the sound of the dancers' heels on the floor. Finally, the production of the album, its sound varnish, remains the same: no excessive reverb or additional effects to the acoustic and live sound of this duo. One could sum up the guiding line of this already mythical duo with the last stanza of Pêr Jakez Helias' Voulouz Loar: "I like to think that there's no point in proclaiming thirst and distress to you, because I'm going to you by the straight and narrow." Faustine Audebert
Upcoming concerts
ANNIE EBREL & RICCARDO DEL FRA

La Coursive - LA ROCHELLE (17)
In the press
"A Breton voice, that of Annie Ebrel. The singer has teamed up with Riccardo Del Fra, the Italian bassist and jazz composer, for an astonishing duo."
Actu.fr
"It was "just" a very important record in its field, marked its time and remains today an intact, honest and unique work, a pioneer in the field of evolutionary Breton music tempted by a rapprochement with the world of jazz. With only a voice, a double bass and a few extra strings, Voulouz Loar (Velluto di Luna) has enchanted souls in search of velvety contemplation."
Rytmes croisés
"This album is certainly one of the records that has most marked Breton music over the last 20 years. It is indeed the first time that a traditional Breton gwerzioù singer meets a jazz musician, a double bass player...".
L'Antichambre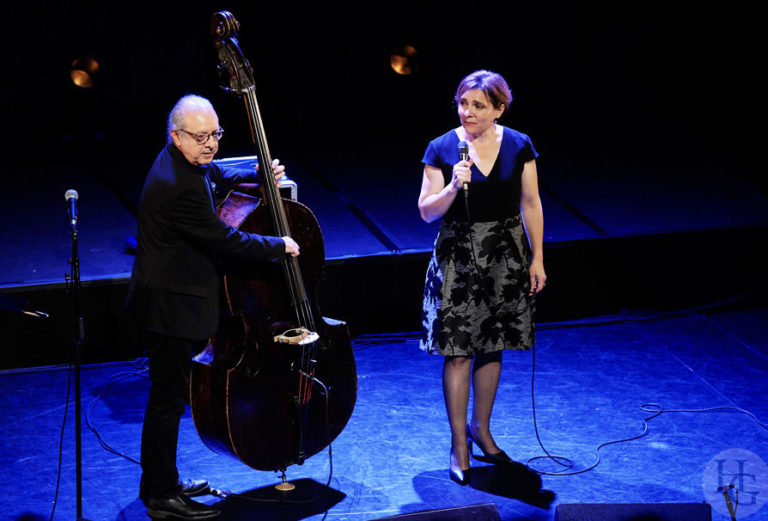 Lineup
Annie Ebrel : voici
Riccardo Del Fra : double bass