Discography
Biography
In just over a decade, Doolin' has established itself as one of the most innovative Irish music groups in the world. Doolin' sublimates the typical Irish spirit with an infectious energy and the angelic voice of their singer Wilfried Besse. Steeped in contemporary sensibilities, rock, folk, jazz, funk, these virtuosos break the boundaries of the genre and irradiate the most prestigious festivals, halls and theaters around the world. Josselin Fournel is the Irish vice-champion of bodhran.
For the recording of its 4th album, Doolin' travelled to Nashville (Tennessee) with the great John Doyle (Solas) and with many guests such as Jerry Douglas (dobro player, 14 Grammy Awards), Kenny Malone (percussionist of Ray Charles, Johnny Cash, J. J. Cale…). J. Cale…) or Michael McGoldrick (Mark Knopfler…), the famous banjoists Alison Brown (4 Grammy Awards) and Mary Shannon or the American rapper Taron Benson (Anakronic).
Since the beginning of his career, Doolin' has played more than 500 concerts on prestigious stages in France and abroad.
DOOLIN' and their early Irish folk music has blended with Afro-American culture, soul, jazz, rap and their European roots, chanson and pop music; DOOLIN' is back with a new show directed by director Yann Orhan and their highly anticipated new album "CIRCUS BOY".
In the press
« To my knowledge, there has never been a band in France that honors Irish music as much as Doolin', while bringing a personal touch »
Garry West, Compass Records
« it is difficult, if not impossible, to resist this often overwhelming music with a very contagious energy »
Yves Gabay, La Dépêche
« Exciting from start to finish »
TELERAMA
Le groupe toulousain Doolin' de musique irlandaise revient en force pour un concert avec de nouveaux titres [...]. Les spectateurs découvriront en exclusivité les premières notes d'un album en préparation.
Ouest-France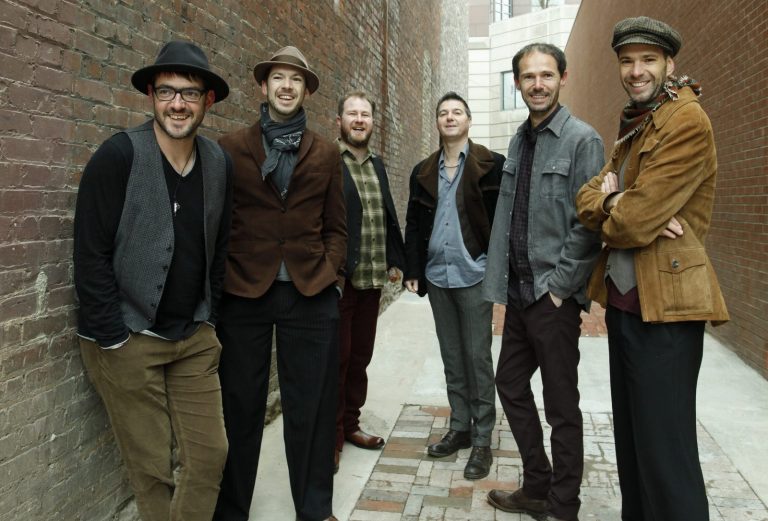 Lineup
Nicolas Besse - guitar
Wilfried Besse - vocals, accordion
Niall Murphy - fiddle
Jacob Fournel - tin & low whistles, séraphone
Josselin Fournel - bodhrán
Sébastien Saunié - basse
Stage references
— U.S. Summer tour 2018 : Dublin Festival (Dublin – Ohio) / Irish Fair of Minnesota (St-Paul – Minnesota) / Milwaukee Irish Fest ( Wisconin) / Kansas City Festival (Missouri) / Pittsburg Irish Festival (Pennsylvania)
— International tours : Tall Ships Festival (Waterford, Irleand), Whelan's (Dublin), Das Da Theater (Germany), Fêtes de Genève, Tempo Color (Belgium), Leeds Irish Festival (England), Nueche Folk (Asturies, Spain), Santa Tecla Festival (Taragona, Spain), Matt Molloy's (Westport, Ireland)…
— French tours : Festival Interceltique de Lorient (56), Le Cabaret Sauvage (Paris 19ème), Le Bikini (Toulouse), Les Roches Celtiques, La semaine du Golfe du Morbihan, Celt'Istres, Festival irlandais d'Auberives, Jazz à Montauban,  Festival Celte en Gevaudan – Sauges (43), Salle polyvalente à Bréhal (50), Les Roches Celtiques – Saint-Etienne (42), Festival Het Lindeboom – Loon Plage (59) …
— Tour with Irish dance international company Celtic Legends (2011).
— Participation in the film soundtrack "Asterix and Obelix: God Save Britannia" (2012). — Concert film "Man Of Aran" by Robert Flaherty.