Annie Ebrel
New album « Lellig »
Annie Ebrel
New album « Lellig »
Annie Ebrel
New album « Lellig »
Discography
Biography
Following in the footsteps of her elders Yann-Fañch Kemener and Erik Marchand, Annie Ebrel is one of the greatest voices in Breton song. Having learned the Breton language and traditional singing at a very young age in the family circle, she is striking for her immediately recognisable tone and her knowledge of the popular language. Annie Ebrel has collaborated with many musicians, from a capella singing in solo, duo or trio, to her own musical creation (Dibenn, Annie Ebrel Quartet, Le Chant des Soupirs), to jazz and jazz-rock (Riccardo Del Fra, Jacques Pellen Celtic Procession, One Shot). In her new album Lellig, she explores the texts of the poetess Anjela Duval, in a neo-folk setting, carried by Ronan Pellen, Daravan Souvanna and Clément Dallot. This new creation is a moment of grace where the music serves the words, sublimating them into illustrations understood by all.
New album Lellig (October 2021)
"Anjela Duval is a woman who, during the day, cultivates the land of her small farm, Traon-an-Dour, and who, in the evening, takes out her notebooks and writes poems, which have become among the most beloved in the Breton language. Breton is her everyday language, and she has learned the literary language, which she enriches with her words and her sensitivity.
Many musicians (including Gilles Servat, Soazig Noblet, Véronique Autret) then put her poems into song. It is in the wake of these precursors that Annie Ebrel has chosen to set to music the poems that have touched her on this new album: Lellig.
In the press
"Beauty of tone and expression: she knows how to be a singer and a storyteller at the same time, so much so that the language barrier is no longer a barrier."
Hélène Hazéra - Libération
"For this magnificent album, Annie Ebrel took on a real challenge, that of picking a few nuggets from the gold mine that is Anjela Duval's work. Poetry written in free verse and therefore not easy to set to music. Annie Ebrel and her three musicians have accomplished this enormous task. Here she sublimates the immense work of this humble peasant woman from Costa Rica. A real success."
Le Peuple Breton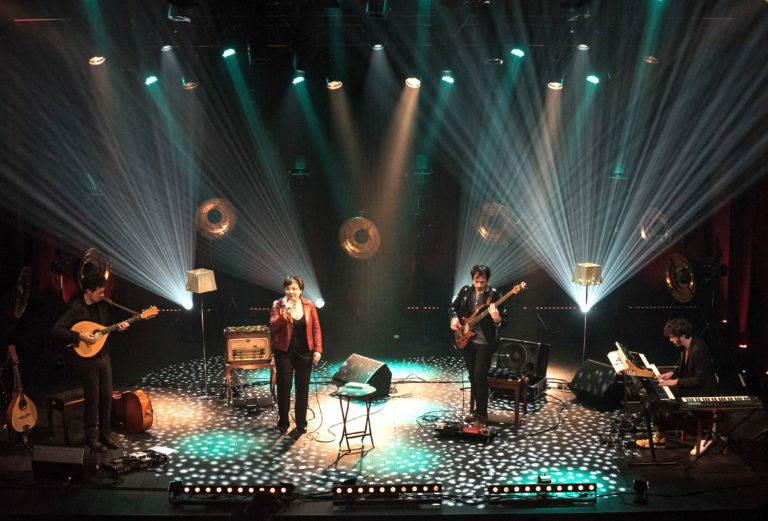 Lineup
Annie Ebrel : Singing
Ronan Pellen : strings and cello
Daravan Souvanna : electric bass
Clément Dallot : keyboards and piano