KANOUR NOZ
Voice, Celtic Harp & Doubl Bass
KANOUR NOZ
Voice, Celtic Harp & Doubl Bass
KANOUR NOZ
Voice, Celtic Harp & Doubl Bass
Discography
Biography
KANOUR NOZ, "night singer" in Breton, was the nickname given by the inhabitants of Kerroc'h, a small port near Ploemeur in Brittany, to a fisherman who used to sing at night as he went out to sea. Élodie Jaffré discovered that this man, Louis Le Hirez (1907-1983), was her great-greatuncle. She wanted to create a show around this character, his life and his expression. Accompanied by Awena Lucas and Yann Le Bozec, Elodie uses her voice to imagine in a night out at sea in a contemporary way and develops a universe around him, alone on his boat in the middle of the ocean, with his voice.
From poullenn* to poullenn, the music invites itself into the ebb and flow of his memory.
(*Poullenn: Fishing spot)
The album Kanour Noz, released in November 2022, received the first prize of the record sung in Breton language at the Prizioù 2023.
Production: SELAOU
Coproduction: AMZER NEVEZ, LE NOUVEAU PAVILLON, FESTIVAL DE CORNOUAILLE
In the press
« The Breton language from Vannes sets the tone for this perfectly voice, which knows how to play its particular accents and slip in the micro- intervals that punctuate the melodies. The harp and doubl bass respond to the vocals, creating atmospheres that are always linked to the words »
Armen
« The concert repertoire has been perfectly transposed to this album, without losing the freshness and strength of the ensemble and the arrangements. I find the same feeling of joy, emotion and pleasure (this bristling hair phenomenon!) that you get from an exceptional project. »
Magazine Musique Bretonne
"«Kanour noz», a magnificent moonlight on the silhouette of an undeniable maritime personality from Morbihan Brittany."
Culture et Celtie e-magazine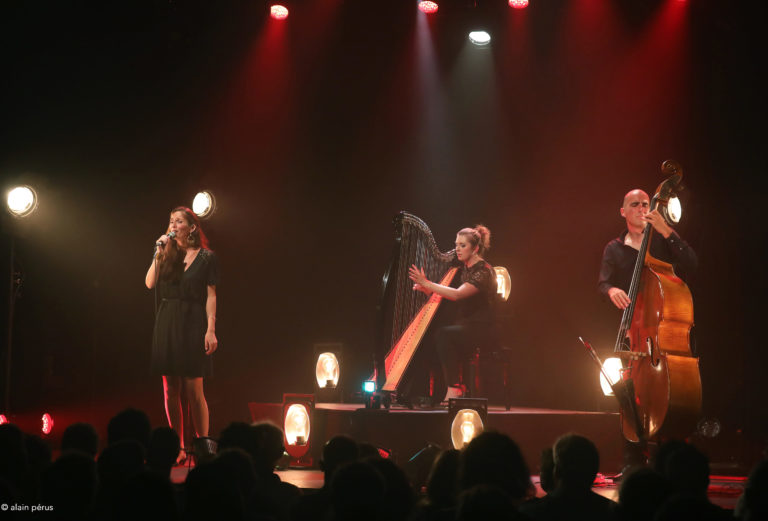 Lineup
Elodie Jaffré : vocals
Awena Lucas : Celtic harp
Yann Le Bozec : Doubl Bass
Stage references
Scena Na Pietzre à Poznan en Pologne, Festival Interceltique de Lorient, Festival de Cornouaille à Quimper, Festival Fisel de Rostrenen, Festival de harpe de Dinan, Festival Les Zef et Mer 2022 (Plérin, Rennes, Nantes & Guer), Centre Amzer Nevez à Ploemeur, Fête du chant à Bovel, le Nouveau Pavillon, Festival Un Automne Autrement, la Pomme d'Orange à Peillac, Festival Taol Kurun…