Caroline Keane & Tom Delany
Traditional Irish Music on concertina and uilleann pipes
Caroline Keane & Tom Delany
Traditional Irish Music on concertina and uilleann pipes
Discography
Biography
Playing traditional Irish music on concertina and uilleann pipes, this young energetic duo claims an authentic musical expression beyond their years. Their playing is a powerful embodiment of tradition, combined with pure musical passion.
Caroline and Tom both grew up in homes filled with traditional music. From an early age, Caroline was exposed to the richness of West Limerick and Sliabh Luachra traditional music, an influence that has become the cornerstone of her unique vibrant, passionate and emotional concertina style. With an Irish father and a French mother, Tom acquired his musicality by osmosis, born and raised in a rich environment of Irish music. Inspired by these travels, his rhythmic playing is powerful and bold.
Since 2010, the duo has toured extensively, performing in Europe, Canada, America and Australasia. Their music reflects their fun, vibrant and heart and soulful personalities.
In the press
« Their music reflects their personality, Tom's powerful and daring rhythmic playing and Caroline's vibrant and passionate one. A nugget album to listen to over and over again. »
5planètes.com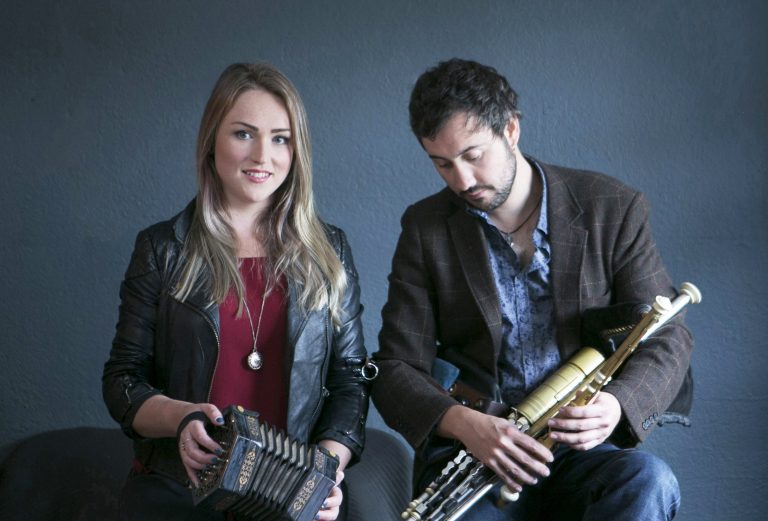 Lineup
Caroline Keane : Concertina
Tom Delany : Uilleann pipes
Stage references
Péniche Spectacle, Rennes (35), Couvent des dominicains de Haute-Alsace, Guebwiller (68) …