McDonnell Trio
New album "A family Odyssey"
McDonnell Trio
New album "A family Odyssey"
McDonnMcDonnell Trioell Trio (Prix Charles Cros)
New album "A family Odyssey"
McDonnell Trio
New album "A family Odyssey"
Discography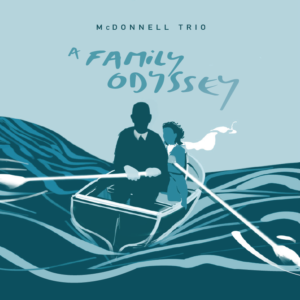 McDonnell Trio
"A Family Odyssey" (TVB Productions / l'Autre distribution) 2023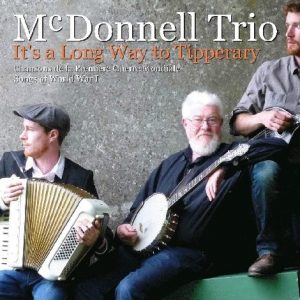 McDonnell Trio
"It's a Long way To Tipperary" TVB Productions (2014) L'Autre Distribution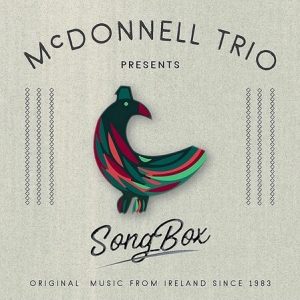 McDonnell Trio
"SongBox" TVB Productions (2018) L'Autre Distribution
Biography
McDonnell Trio travels the world with its dual Franco-Irish culture and a musical journey marked by beautiful adventures. Their repertoire is as much about Ireland as it is about bluegrass or universal songs telling us the story of peoples and migrations. With folk influences passed down through a rich family and musical lineage, it was only natural that the father and two sons would meet on stage today.
"We must open the roadmap of this exceptional vocal trio and first greet the father, Michael, a former sailor born in Kilkenny and bathed from his earliest childhood in the waters of a father's accordion and in the melodies sung by his mother. From generation to generation, the story goes on and Michael's two sons, Simon and Kevin, take their turn to sail with their father, to navigate three voices and two generations, and give life to Irish songs and folk-songs without borders…"
Françoise Cartade – Director of the Festival Les Temps Chauds
A Family Odyssey takes us into a fertile harvest of songs of exile, sailors and wandering musicians called "tinkers". The McDonnell trio mixes original compositions with gems from the repertoires of Ulster or Donegal, England or Appalachia and even the Tex Mex tradition. In this odyssey the voices shine, in solo a capella or in triangular harmonies. The warm instrumentations of the McDonnell trio bring back to life the joyful wakes. The accuracy of the voices of the harmonies and vocal expressions offer a luminous present to the Irish songs. The lively tenderness of the accordion, the sensitivity and the timbre of the voices associated with the instrumental complicity transform this family odyssey into universal emotions without borders.
In the press
« Michael McDonnell is one of the best Irish singers living in France. With his sons Simon and Kevin, he created a vocal trio... A small wonder. The precision of the voices, the setting and the emotion that emerge from it are exceptional. »
Trad Magazine
«With the McDonnell Trio we dive into authentic Irish folk to celebrate with grace a perfectly assimilated tradition. »
Rock & Folk
« Their songs mix stories, images, beautiful melodies and a good dose of humor. »
Paris-Normandie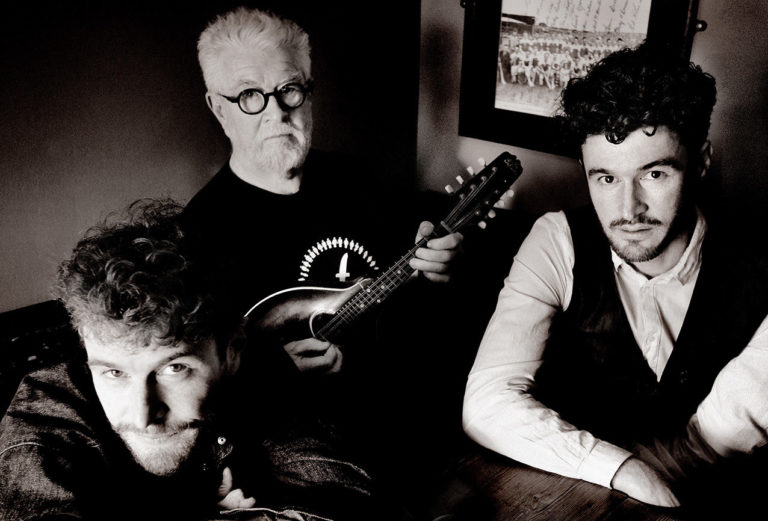 Lineup
Michael McDonnell : vocal, mandoline, banjo, guitar
Kevin McDonnell : vocal, accordion
Simon McDonnell : vocal, guitar, bodhran, tin-whistle
Soazig Hamelin : violon, vocal (guest)
Stage references
Festival Les Anthinoises, Anthisnes (BE) ; Festival du labyrinthe de la voix, Rochechouart (87) ; Festival Het Lindeboom, Loon Plage (59) ; Festival Le Grand Soufflet, Rennes (35) ; Festival Convivencia, Villesequandèle (11) ; Le Printemps des Bretelles, Illkirch (67) ; Les Champs Libres, Rennes (35) ; Le Carré Bellefeuille,  Boulogne-Billancourt (78) ; Le Moulin du Roc, Scène nationale, Niort (79) ; La Batterie, Guyancourt (78) ;  Le Roudour, Saint-Martin-des-Champs (29) ; Le Gentieg, Janzé (35) ;  Festival Celtomania, Sucé-sur-Erdre (44) ; Festival de Cornouailles, Le Novomax , Quimper (29) ; Mercredis de Peniti, La Forêt-Fouesnant (29) ;  Festival Les mercredis de la chapelle Pol, Brignogan (29) ; Festival Les Temps Chauds, Bourg-en-Bresse (01) ; Les mardis en fête, Moëlan-sur-Mer (56) ;  Boulevards de la Musique, Erquy (22) ;  Normandie Celtic Festival, Montivilliers (76) ; Festival Coup de Parquet, Mamers (72) ; Festival Celte en Ouche, Conches-en-Ouche (27) ; Les bordées de Cancale, Cancale (35) ; Vents de Vilaine, Pont-Réan (35) ; Transat-en-Ville, Rennes (35) ; Mainvilliers (28) ; Festival Le Chainon Manquant, Laval (53) ; Espace Culturel, Mennecy (91) ; Centre Culturel La Grange Dimière, Fresnes (94) ; Espace Ligéria, Montlouis-sur-Loire (37) ; Mardis de Morgat, Morgat (29) ; Halle au Blé, Raon-l'étape (88) ; Théâtre de la Garenne, La Garenne-Colombes (92) ; Rennes World Sounds, Rennes (35) ; Musivales, Autheuil-en-Valois (60) ; Festival d'Art de Huy, Huy (BE) ; Espace Philippe Auguste, Vernon (27) ; Château de Regnéville, Regnéville (50) ; Le Sterenn, Trégunc (29) ; Les Envolées, Carentan (50) ;   La Scène Bastille (PARIS) ; Maison de la Culture, Nevers (58) ; Espace Palumbo, Saint Jean l'Union (31) ; Couleurs d'Ailleurs, Montivilliers (76) …