Eben
New creation "Dinaskañ"
Eben
New creation "Dinaskañ"
Eben
New creation "Dinaskañ"
Biography
The result of a creation entrusted to the violinist Jonathan Dour, Eben has become a solid and original group. Eben combines the talents of singers Enora Jegou, Marine Lavigne and Sterenn Le Guillou, guitarist Antoine Lahay, bassist Julien Stevenin and the assiduous benevolence of Jonathan.
The three singers were initiated by Louise Ebrel to Kan Ha Diskan (traditional singing to answer) of which they digested the classics to better write texts in resonance with the time. Their texts, signed by Marine, evoke women, migrants, minorities or indigenous peoples.
Their singing links the Kan Ha Diskan with many contemporary colors, the particularly silky arrangements benefit from the great experience of the three musicians.
Antoine Lahay's twelve-string and electric guitars have proven themselves alongside Denez Prigent, Nimaan and Karma, and Julien Stévenin's double bass has offered its groove to Startijenn, Ronan le Bars and Istan Trio. As for Jonathan Dour's violin, faithful for years to Denez Prigent, he has been solicited by Dan Ar Braz or Nolwenn Korbell and expresses himself fully in the Dour-Le Pottier Quartet.
Eben is one of the best assets for the future of Breton music.
EBEN is part of the Breton singing tradition and shows a very actual musical accompaniment. Powerful but delicate, like the strings that sublimate the song. The notion of otherness fed the creation of the texts of the first album, inspiring the name of the group EBEN ("the other"). Today, it is the theme of emancipation that they wish to address: between melancholy and revolt, tears of joy and bursts of hope.
This creation is a creation entrusted to Jonathan Dour by the Interceltic Festival of Lorient (56)
Diffusion : Naïade Productions
Co-producers : Amzer Nevez, Ploëmeur (56) and other partnerships in progress
In the press
« An elegant album, fresh, powerful but delicate like the strings that accompany the vocals. And if I add that Eben has been invited to perform at the Celtic Connections festival in Glasgow, the biggest Scottish festival, what greater proof of the talent of this nice sextet »
Philippe Cousin - 5 PLANETES
« These young musicians have countless ideas. Rarely have classical gavotte and plinn themes been punctuated with such subtle strings. A new look at Breton culture. »
Christophe Ganne - LE TREGOR
« What adds to the originality of the sound is the writing of new texts, born from the pen of the singer Marine Lavigne who poses her glance of young woman on the popular repertory. ... the energy of a youth which appropriates the tradition cheerfully while respecting the references. »
Michel Toutous - ARMEN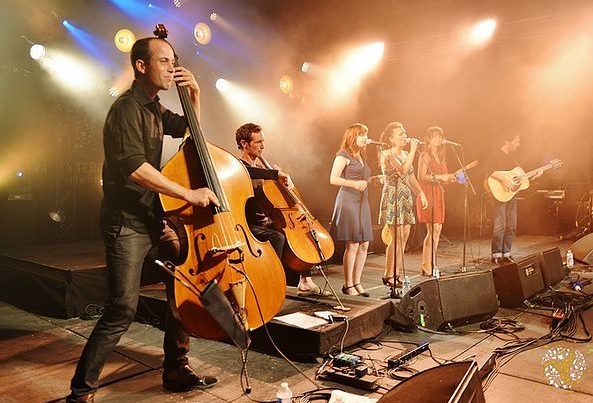 Lineup
Marine LAVIGNE - Vocal, writing
Sterenn LE GUILLOU - Vocal
Sterenn Diridoullou - Vocal
Jonathan DOUR - Alto/Violoncelle
Julien STEVENIN - Double bass
Antoine LAHAY - Electric guitar / acoustic guitar
Stage references
Festival Eurofonik, Nantes (44) – Fête de la Bretagne, Paris (75) – Les Concerts d'Eté du Daviaud, Barre des Monts (85) – Festival de Tatihou, Saint-Vaast-La-Hougue (50) – Amzer Nevez, Ploëmeur (56) – Festival Yaouank, Rennes(35) …