Lisa Hanningan
Folk icon of an Irish revival
Lisa Hanningan
Folk icon of an Irish revival
Lisa Hanningan
Folk icon of an Irish revival
Discography
Biography
One of the islands of the Irish folk revival. Lisa Hannigan is an Irish singer-songwriter and multi-instrumentalist who captivates with her delicate voice and surprising sonic flights of fancy.  Her music is reminiscent of introspective folk artists like Nick Drake, but doesn't hesitate to dive straight into the eccentric impulses that plague the works of musicians like Kate Bush.
In her early days, Lisa Hannigan collaborated with Damien Rice and sang duets with him on numerous tracks such as 9 Crimes and Volcano. Her professional relationship with him was anything but symbolic. She played with him as a drummer, keyboardist and guitarist and was able to stand out with her talent by playing eclectic setlists of traditional songs and covers.
Lisa Hannigan has lent her vocal skills to Glen Hansard's Dublin rock band, The Frames, as well as to jazz legend Herbie Hancok. In 2006, she joined The Cake Sale, a predominantly Irish folk collective led by Brian Crosby, whose self-titled album was a huge international success.
Since 2007, Lisa Hannigan has dedicated herself to her own career and since then she has released 4 albums, the last one in Live, which combine pop melodies and folk instrumentation and highlight a warm and slightly veiled voice with melancholic accents.
In the press
« What At Swim's water story tells us: a funny epic swimming against the current, where the artist drools, of course, but manages in eleven songs to sublimate a recurrent romanticism to offer everything, and the rest. The extraordinary finesse to evoke the people of little, the moving song of a woman of the time, the musics like a translucent case, and the capacity to make compatible its various roots (roughly speaking, Maria Callas taking the tea with Piaf on bottom of alternative rock)...
Christian Larrède - Les Inrocks
This third album, produced by Aaron Dessner of The National, interrupting five years of solo silence, uses a shattering polychromy and puts colors in our lives with virtuoso flat tones, a weightless singing beautiful to cry and a subliminal instrumentation served by a modest piano or some percussions. The beauty of a black diamond, and one of the records of the year. »
Christian Larrède - Les Inrocks
« Produced by Aaron Dessner, this is his third record - and probably his most enchanting. [...] At Swim is at times infused with soaring vocals amidst guitar harmonics and sparkling drum beats, at other times darker and more vulnerable, one feels that we've come a long way since the wide-eyed fantasy that was Sea Sew. »
Que faire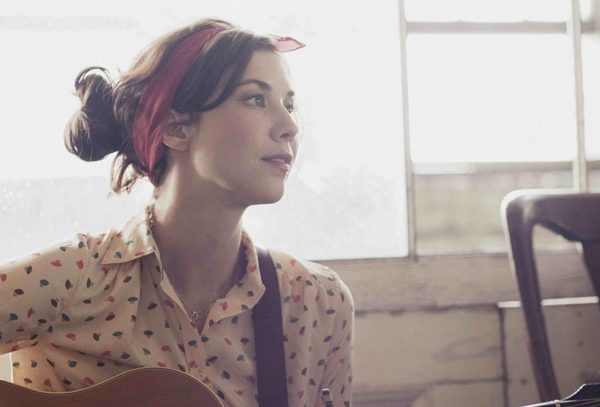 Lineup
Lisa Hannigan : vocal, guitar
The composition of the group is variable depending on the tour