GLÜCK AUF! Before Bach chapitre 2
Erik Marchand & Rodolphe Burger
GLÜCK AUF! Before Bach chapitre 2
Erik Marchand & Rodolphe Burger
GLÜCK AUF! Before Bach chapitre 2
Erik Marchand & Rodolphe Burger
GLÜCK AUF! Before Bach chapitre 2
Erik Marchand & Rodolphe Burger
GLÜCK AUF! Before Bach chapitre 2
Erik Marchand & Rodolphe Burger
Discography
Biography
At the origin of the BEFORE BACH project are Erik Marchand and Rodolphe Burger who share a taste for the unusual and the singular.
The first is a master of traditional Breton singing and has a passion for Balkan music. The second is a guitarist and singer of atmospheric blues rock, a stage director, founder of the group Kat Onoma and the label Dernière Bande.
In search of unusual sounds and arrangements, they launched the BEFORE BACH project in 2004, which is nothing less than a bet on the universality of traditional music beyond the barriers of language. A collaboration that opens a door to a genre apart, halfway between two worlds. At the end, an album of the same name reinforced with a rhythm section, found a space of understanding, a common territory of expression between the modal music that Erik Marchand has been ploughing for years and the blues rock spirit from which Rodolphe Burger leads his own extrapolations.
In 2019, here they are again, going back down to the mine, digging deeper and deeper and extracting a new repertoire. Each time, their exchanges underline the kinship between blues and Breton songs, boosted by the energy of a rock rhythm.
A creation of Naïade Productions / Compagnie Rodolphe Burger.
Upcoming concerts
GLÜCK AUF! BEFORE BACH CHAPITRE 2

Cabaret Sauvage - PARIS (75)

GLÜCK AUF! BEFORE BACH CHAPITRE 2

Théâtre de Saint-Quentin-en-Yvelines - SAINT-QUENTIN EN YVELINES (78)

GLÜCK AUF! BEFORE BACH CHAPITRE 2

Festival du Chant de Marin - PAIMPOL (22)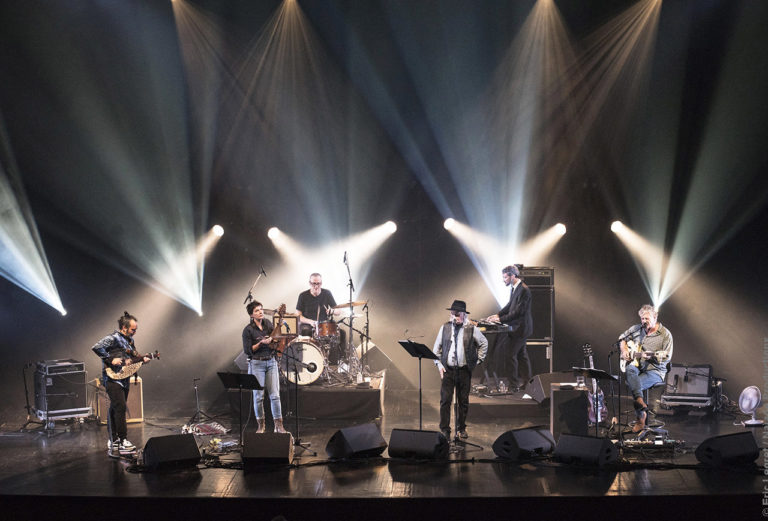 Lineup
Erik Marchand : vocal
Rodolphe Burger : electric guitar and vocal
Mehdi Haddab : electric oud
Arnaud Dieterlen : batterie
Julien Perraudeau : bass
Pauline Willerval : gadulka and vocal
Christophe Olivier : lighting design
Léo Spiritof : sound creation
Stage references
TNB, Rennes (FR) – Festival Transmusicales, Rennes (FR) – Festival Panoramas, Morlaix (FR) – Le Quartz Scène Nationale, Brest (FR) – Festival des Vieilles Charrues, Carhaix (FR) – Théâtre de Cornouaille, Quimper (FR) – Festival La Filature, Mulhouse (FR) – Festival Celtiwelch, Fréland (FR) – Festival Le Run ar Puns, Châteaulin (FR) – Festival Tempo Rives, Angers (FR) – Festival Couleurs du Monde, à Langonnet (FR)…..