Dour/Le Pottier Quartet
Brittany and tribal music
Dour/Le Pottier Quartet
Brittany and tribal music
Discography
Biography
The Dour Le Pottier quartet is inspired by traditional fiddlers from Brittany, France and Sweden, but also by oriental sounds or classical and rock harmonies.
Born in central Brittany, Dour le Pottier (composed of four musicians: Jonathan Dour (violin), Floriane Le Pottier (violin), Mathilde Chevrel (cello), Antonin Volson (percussion)) plays subtle, wild, learned and popular contrasts creating an ensemble approaching a tribal and modal chamber orchestra.
Jonathan Dour and Floriane Le Pottier are talented violinists, they are crowned champions of Brittany in traditional music duo in 2011.
Jonathan trained at the conservatories of Rennes and Saint-Brieuc; and he played in the groups KARMA, LIAMM and AODAN. Floriane trained at the Centre de Formations des Musiciens Intervenants and obtained her DUMI in 2012. She joined the Kreiz Breizh Akademi 5 in 2014.
Mathilde Chevrel is a cellist with a strong background in classical music from the Conservatory and a beautiful family heritage of an oral tradition. With Dour le Pottier she continues her exploration of Breton music begun within the group AODAN.
Antonin Volson is a musician, composer, arranger and sound engineer. He studied drums at the D. Agostini school (Paris), ancient music with Berry Hayward and followed a classical training at the Conservatoire de Vannes. This multi-instrumentalist then specialized in traditional Breton and Ethiopian music.
In the press
« This marriage of strings and skins stands out in the Breton musical landscape. One savors at the same time the elegance of the classic and the trance of the trad'.»
Gwenaël Dayot, Ouest-France
« A new and refreshing approach to Breton music. Classical and trad harmonies and rock riffs take the dance in the direction of trance and escape. »
Frédéric Jambon, Télégramme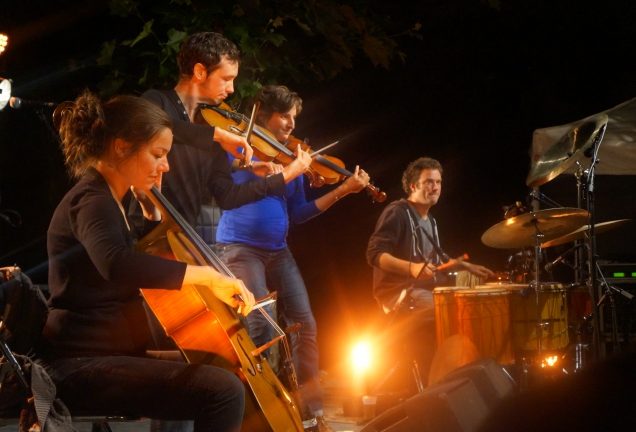 Lineup
Jonathan Dour - violin
Floriane Le Pottier - violin
Mathilde Chevrel - violoncello
Antonin Volson - drumming
Stage references
Le Dour/Pottier Quartet (formule de bal) : Festival Interceltique de Lorient (56), Festival de Cornouaille à Quimper (29), Yaouank à Rennes (35), Festival Fisel à Rostrenen (22), la Gallésie en fêtes à Monterfil (35), la Bogue d'Or à Redon (56), Paris-Breizh à Bagneux (75), Bouche à Oreille à Parthenay (79), Les grands bals de l'Europe à St Gervais d'Auvergne (63), Boulegan à St Jean du Gard (30), Le p'tit Balzar au Mans (72), Festival Rio Loco à Toulouse (31)….