Andy Irvine & Dónal Lunny
Two giants of the Irish trad scene
Andy Irvine & Dónal Lunny
Two giants of the Irish trad scene
Discography
Biography
These two icons of Irish music in the 70's reunite today as a duo for a great moment of sharing and music, a mix of traditional songs and original compositions.
Dónal Lunny and Andy Irvine have fronted legendary bands such as Sweeney's Men, Planxty, The Bothy Band, Mozaik, LAPD and recently Usher's Island. The unique style they have both developed has been a great influence in the Irish music world. Between them, their careers can be found in the who's who of popular music.
Dónal Lunny has produced albums for Elvis Costello, Paul Brady, Clannad, and The Indigo Girls and written songs for Eat the Each and Teardrops. As a musician, Lunny has been featured on more than a dozen Christy Moore albums, and has been an integral part of such well-known bands as Planxty, the Bothy Band, Mozaik and Moving Hearts. She has also been seen on BBC TV programs, and across the Atlantic with James Taylor, Eddi Reader, Diana Krall and others.
Dónal was the managing director of the show "Céiliúradh" at the Royal Albert Hall in London, during the state visit to the United Kingdom of Irish President Michael D. Higgins. Andy Irvine also participated in this prestigious event.
Andy Irvine is an accomplished instrumentalist, singer and songwriter with several solo albums to his credit. Formerly of Planxty & Sweeney's Men, Andy is a member of Mozaik and Usher's Island with Donal. He has performed and recorded with Paul Brady, Christy Moore, Bill Whelan and Davy Spillane, and shared the bill in Dublin with Billy Bragg, celebrating the Centenary of the birth of Woody Guthrie, the famous American folk singer and guitarist. He has also recently performed in the "Imagine" concerts at the National Concert Hall, Dublin and the Royal Festival Hall in London.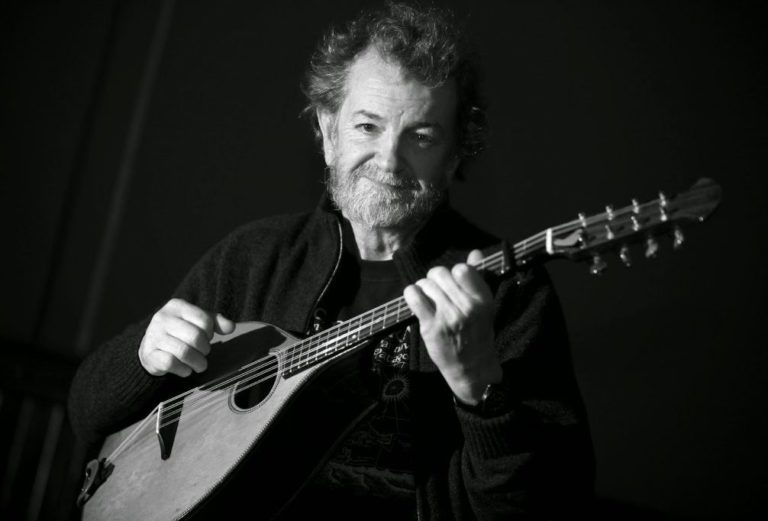 Lineup
Andy Irvine : vocals, mandolin, harmonica
Dónal Lunny : vocals, bouzouki, bodhran
Stage references
The Black Box, Belfast (Irl) – Edmonton Folk Music Festival (Canada) – Epstein Theatre, Liverpool (Uk) – National Stadium, Dublin (Irl) – Glastonbury Festival (Uk) – Ulster Hall, Belfast (Irl) – Cork Opera House (Irl) – Olympia Theatre, Dublin (Irl) – Michigan Irish Music Festival (USA) – FolkEast Festival, Woodbridge (Uk) – Festival Interceltique de Lorient (Fr)